Hooray,  we're so happy that same sex marriages in Australia are now legal.  From 9th December 2017, couples can choose to have a legally binding wedding.  The ceremony follows the same format with legal monitum, vows and an exchange of rings. The content and style of every wedding ceremony will be different, apart from the legally required words which must be said in all Australian marriages. Apart from these words, ceremonies are tailored to the wants and needs of each individual couple. Your ceremony can be as traditional and formal as you like, or relaxed and completely free to be a reflection of you.
You may have some great ideas of your own for your dream day. We can help you with a custom written ceremony in which you can have all the input or leave it up to us to create something great. Either way we'll make it a truly special and memorable occasion. We will get to know you both and together create a unique, custom written ceremony that captures the essence of your relationship. We do not believe that one size fits all when it is something as personal as the formalisation of your love.
At least one month before your wedding, you must sign a notice of intended marriage with your celebrant, or other suitable witness. We have those forms available, and assist you in filling them in and witnessing for you. We'd love to be your Celebrant, so don't hesitate to contact us.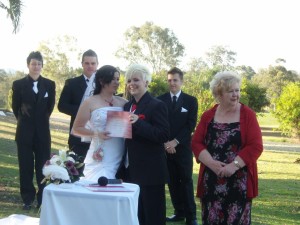 To celebrate your union with a Same Sex Wedding Ceremony contact us
Same Sex Marriage Ceremony Fees:
Cherish Ceremonies Marriage Ceremony Includes
Initial meeting to complete the legal paperwork including completing the Notice of Intended Marriage form (NOIM) and initial interview about  your ceremony ideas and dreams to ensure we create exactly what you want!
All communication and advice necessary to prepare the ceremony and ensure you are ready for your big day
Complete consultation with you on the presentation and content of the ceremony
A thorough supply of sample ceremony content to inspire you. Including ideas for vows and readings.
Original personalised bespoke wedding ceremony prepared with editing via  email (other methods okay if you do not have email)
Travel time and costs to & from ceremony location (within 40klm: greater Brisbane, Logan, Gold Coast, Sunshine Coast, Bayside, Moreton Bay, Ipswich) – arriving 30mins before the ceremony.
Use of the portable PA system, including microphone, music/MP3 player
A professional experienced and qualified marriage celebrant
Celebrants clothing to suitably match with ceremony theme/ colours (where possible)
Liaising with ceremony participants to ensure the smooth running of the ceremony on the day
A legal marriage ceremony performed
A beautiful printed copy of the ceremony for you to keep
A memento presentation marriage certificate
All legal documents; completed correctly and submitted to Births, Deaths and Marriages in your state of Australia
Information regarding the name change process
A sincere, warm, trustworthy, down to earth, adaptable and friendly civil marriage celebrant who considers it an honour to perform your wedding ceremony. We respect this opportunity by performing your ceremony with enthusiasm, integrity, dignity, reliability and most of all create your ceremony exactly how you dreamed it to be so you can Cherish it forever!
Enquire about availability to have a Cherish Ceremonies Civil Marriage Celebrant perform your wedding.
celebrant@brisbanecivilcelebrant.com
Additional fees & Other Options:
Ceremony extras like butterflies, doves, bubbles, candles etc are to be provided by you.
Special Occasion dates are always charged at $95 extra due to the popularity of the date (e.g. Valentine's Day, Public Holidays, Easter, Christmas, New Years Eve & Day, special number dates etc.)
Travel outside of the Greater Brisbane, Logan, Gold Coast Area (40+klm)– negotiable
Ceremonies with themes or special requirements – negotiable
On site rehearsal $100 (within 40klm). Rehearsal at our premises no charge
Additional Ceremony for welcoming children to the marriage or double naming ceremony (marriage + baby naming) – $100 extra per family
Enquire about availability to have a Cherish Ceremonies Civil Marriage Celebrant perform your same sex ceremony.
celebrant@brisbanecivilcelebrant.com