Baby Naming Ceremony
A Baby Naming Ceremony that tells youir baby's story! A Baby Naming Ceremony is a beautiful and meaningful way to formally name and welcome a newcomer to your family and friends. It includes information about the child being named, the origin or meaning of their name, a naming ritual, parents dedications, poems or readings of your choice, and opportunity to appoint guardians/ mentors/ fairy godparents etc and can also include Grandparents, siblings and special people. Similar to a traditional Christening however not generally conducted in a church. Most naming ceremonies do not include any religion, however you may include religious elements if you like.
Celebrate the Wonderful Ride that is Parenthood, with a Brisbane Baby Naming Ceremony by a Fun Celebrant!
To book a Baby Naming Ceremony, Brisbane, Logan, Gold Coast and Tamborine Mountain contact us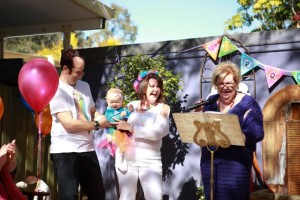 Naming Day Ceremony
A Naming Day Ceremony is a ceremony to formally name a person of any age. A bespoke ceremony that includes information about the person being named, the meaning of their name, a naming ritual, poems and readings of your choice, may include family and friends. It can also be a fantastic ceremony for people who have changed their name.
To book a Naming Day Ceremony, Brisbane, Logan, Gold Coast, and Tamborine Mountain contact us
Naming Ceremonies Fees:
Cherish Ceremonies Naming Ceremony Includes:
Phone calls or emails to discuss your ceremony ideas and dreams to ensure we create exactly what you want!
All communication and advice necessary to prepare the ceremony and ensure you are ready
Complete consultation with you on the presentation and content of the ceremony
A thorough supply of sample ceremony content to choose from and inspire you. Including ideas for appointing guardians/godparents, including Grandparents and some beautiful readings. The files are emailed to you.
Original personalised bespoke naming ceremony prepared with editing via  email (other methods okay if you do not have email)
Travel time and costs to & from ceremony location (within 40klm: greater Brisbane, Logan, Gold Coast, Sunshine Coast, Bayside, Moreton Bay, Ipswich)– arriving 15mins before the ceremony
Use of the portable PA system, including microphone, music/MP3 player
A professional experienced and qualified civil celebrant
Celebrants to be well presented/ dressed suitably and professionally
Liaising with ceremony participants to ensure the smooth running of the ceremony
A naming ceremony performed
A beautiful printed copy of the ceremony for you to keep
A memento naming certificate (additional certificates $5 each)
A sincere, warm, trustworthy, down to earth, adaptable and friendly civil celebrant who considers it an honour to perform your baby's very special naming day ceremony. We will respect this opportunity by performing your ceremony with enthusiasm, integrity, dignity, reliability and most of all create your ceremony exactly how you dreamed it to be so you can Cherish it forever!
We do ask that your ceremony start on time (within 10 minutes of the booked time).  If you know your guests are likely to be late, we recommend you invite them half an hour or more before the ceremony time. It's also a good idea to keep your baby's nap times in mind when planning your ceremony time.
Enquire about availability to have a Cherish Ceremonies Civil Marriage Celebrant perform your naming ceremony.
celebrant@brisbanecivilcelebrant.com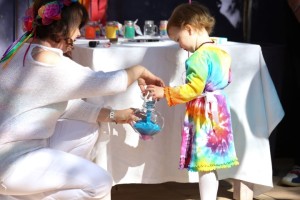 Additional fees & Other Options:
Ceremony extras like butterflies, doves, bubbles, candles etc are to be provided by you.
Special Occasion dates are always charged at $95 extra due to the popularity of the date (e.g. Valentine's Day, Public Holidays, Easter, Christmas, New Years Eve & Day, special number dates etc.)
Travel outside of the Greater Brisbane, Logan, Gold Coast Area (40+klm)– negotiable
Ceremonies with themes or special requirements – negotiable
On site rehearsal $100 (within 40klm). Rehearsal at our premises no charge
Additional Ceremony for welcoming children to the marriage or double naming ceremony (marriage + baby naming) – $100 extra per family
Please note:
Fees may change without notice and additional fees may apply, fees exclude GST, if you're not sure, just ask.
A non-refundable deposit of $150.00 is required to secure your date. Deposit amount is taken off the full charge amount.
Payment Methods
Direct Deposit/ Cash/ Cheque/ Money Order