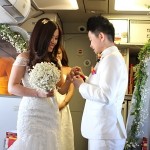 People are often looking for something different for their wedding ceremony. Anything from ships, boats, canoes (the topic of our last blog) to being married on a plane or other ways which will be outlined in further Cherish Ceremonies blogs.
If you are keen to marry on a plane, there are a few things to keep in mind:
Obviously you must have the permission of the airline involved.
Engage a celebrant who is able to travel with you and perform the ceremony.
Realise that you will only be able to use the aisle space, when refreshments are not being served.
Make sure your guests if any all book seats around each other, preferably aisle seats for seeing the ceremony.
Bride should not wear a huge marshmallow dress, due to the space. Something slinky would be better.
You will not be able to have your attendants (groomsman, bridesmaid) stand near you, maybe behind?
Your witnesses (you need two) will need to be closely seated to where the ceremony will be held.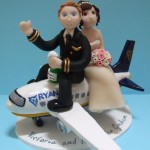 Have discussions with the airline regarding this:

You will have to start discussions very early on with the airline, to ensure all your guests can be accommodated.
To be legally married, the ceremony must occur over Australia, or within the 12 nautical miles that is considered Australian territory. This is also something which needs to be discussed with the airline.
e.g. if travelling from Victoria to Western Australia, the plane may travel over the ocean and past the 12 nautical miles.
So, good luck with your plans for a plane. We at Cherish Ceremonies would be thrilled to accompany you on your journey. Fly High Lovers.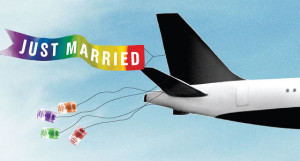 For more information or to arrange a booking please don't hesitate to contact us