As celebrants we are adventurers, as we are often asked to perform weddings in unusual as well as the more usual places. Just to give you some ideas if you are thinking of a site for your ceremony, we will list some thoughts for you to consider here.
In Australia, lots of couples opt for the great outdoors. Here are some options. We will also mention the good points and the drawbacks of these sites. Bear in mind that if you are choosing outdoors for your wedding to have a wet weather plan as well.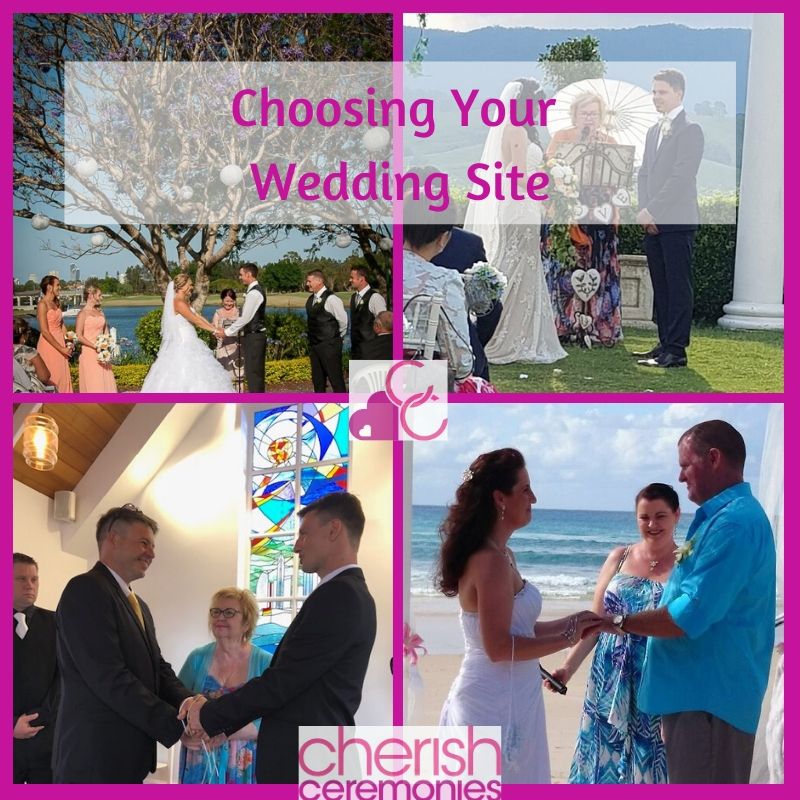 Beach :- Beaches are very romantic in theory. A beach can be a beautiful place to take wonderful photos. There are some drawbacks however. You should check out easy access. If there are great amounts of steps, or great heights or depths to scale to get to the beach, this can be a problem. Bear in mind your guests and their mobility. It is sometimes harder for older people to access the beach. Also the beach can be very windy and the breakers are always much noisier when you are trying to hear a ceremony. Sometimes your celebrant may not be too keen to take their expensive P.A down on a beach to have sand blown into the workings and be wrecked. It is a public place and even with your permit from local council it does not stop uninvited guests barging in on your special moment. If you have your heart set on a beach you can choose a green area before the beach where you can still see the ocean, but where it is not so noisy. If clients dream is to have a beach wedding, we will of course gladly perform their ceremony for them.
Mountain:- Of course it's the scenery and lofty heights that people want when choosing a mountain as their venue. There are some beautiful spots at lookouts which really lend themselves to a ceremony site. Ask us if you'd like some ideas of lovely spots where we have performed weddings. Things to remember when choosing a site – access is always important. If you decide to venture into the rainforest for example, again think of your guests and their mobility. Also remember bug spray.
Parks and Gardens, Public:- There are few drawbacks to parks and gardens. Usually you have to have a permit which you get by contacting your local council. You will be given a time frame and some gardens restrict the sites available to a few. Fortunately these sites are usually the better ones. Botanic gardens especially are guaranteed to be beautiful. Things to remember are access and parking.
Home gardens and backyards:- There are a lot of pluses to having your wedding in your own garden, or a friend or relatives place. It is a private place, no rigid start and finish times for your reception, you may feel more comfortable there and you can prepare your own garden many months in advance. There is a potential to be married in an undercover area, deck or pergola if there is rainy weather. It will not be already booked out and basically you have carte blanche with your plans.
Boats:- Yes, you can be married on a boat, and we have married couples on the open waters before. It is legal as long as you are in Australian waters. Things to remember, it is not totally smooth on the water and you may rock from side to side depending on the water and weather that day. Not a good idea if you suffer from motion sickness. Some guests may be unable to attend an away wedding. You have to organise to get your celebrant back on land afterwards. I had a very fast motorboat ride back from the boat after one wedding. Very exciting.
Planes:- You can be married on a plane over Australian land, it is totally legal. You would have to organise with the airline involved and get their permission to do so, they usually like the advertising and marketing potential of a wedding on their airline. You could also hire a light plane or helicopter if you wanted a more intimate affair. You must remember that you need two extra people there as witnesses.
Hot Air Balloons:- Again there is a number limit for a hot air balloon, it is both an exciting and scenic way to be married if you're brave enough. A wonderful story to tell the younger generations. Sometimes hot air balloons are cancelled due to inclement weather, so you would have to be free to be married on a later date in that case and so would your celebrant.
Chapel:- there are so many beautiful non religious chapels available for civil ceremonies these days.  If your dream involves walking down a traditional aisle and an indoor location, then this may be the wedding site for you. There are so many to choose from and we at Cherish Ceremonies can certainly point you in the right direction of beautiful chapels that we have officiated at. 
Cherish Ceremonies – We Believe in Love!